Creator of Spinal Muscular Atrophy (SMA) / Atelier ATIC
【The challenge of a patient born with spinal muscular atrophy (SMA) 】
We would like to introduce you to the young challengers "Atelier ATIC".
An entertainment production group based in Tokyo, aiming to create a more interesting society through technology and entertainment.
The project, launched in 2019 through crowdfunding is sure to be one of the most important activities of young people who will lead the way in the future!
" Bedridden boku Meets Android kimi"『寝たきりな僕はアンドロイドの君と出会う』
The hero of this game is a bedridden cripple.
The Atelier ATIC team is driven by a passion to bring r stories to more people around the world, and a hope to spread the word about the wonders and possibilities of technology.
What we want to achieve with this project (crowdfunding)
~To enable people to live freely even if they are bedridden.
 
photo :Mr,Masato Nagahiro and   his friends
●Message  from Mr,Masato.N, Vice-President of ATIC
Hello everyone. My name is Masa and I'm the vice president of Atelier ATIC.
I was in charge of the planning, scenario and development of this game.
I was born with spinal muscular atrophy, an intractable disease that has kept me "bedridden" for 26 years.
For many people, being bedridden is a symbol of inconvenience and misery.
It is true that I am unable to live, much less work, on my own.
I felt alone, unable to do the things I took for granted, a burden on society, and an inexplicable anxiety about the future, wondering what would become of me.
However, when I met the technology of the alter ego robot(OriHime), my life changed dramatically and I experienced working for the first time, talking to customers and making them happy.
It was then that I realised that even a bedridden person can be of use to society.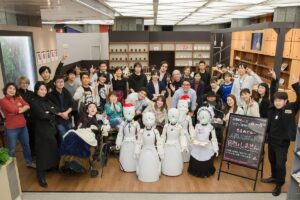 About the alter ego robot YOUTUBE link
This game, "Bedridden Boku Meets Android Kimi", is based on an alter-ego robot café, and was created with friends who actually worked there, expressing their experiences and joys.
It is a sci-fi romantic adventure game about a bedridden young man who meets an android girl and discovers the meaning of his life.
Technology has made it possible to do things that were never possible before, and even if you are bedridden, you can create your future and live freely as long as you have the will to take the first step.
We hope that in 20 years' time, real-life technology will have advanced to the point where events like this will have become a reality, and that players around the world will be able to share in this joy and feel a sense of hope for the future!
●Story / Description
Japan around the year 2040.
Thirteen years ago, parts of Tokyo were flooded by the Great East Japan Earthquake, but thanks to advances in technology, the city has been steadily rebuilding.
The main character, Kant, lives in a residential home for people with physical disabilities who find it difficult to live at home.
One day he meets a mysterious girl, Kanata, and has many experiences with her.
For a man who has been crippled since birth, going shopping, staying in alone, working in a café…
Everything that everyone takes for granted is new, and I thought this joy would last forever…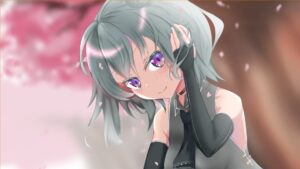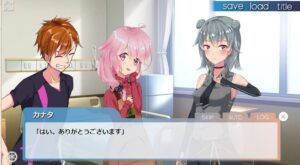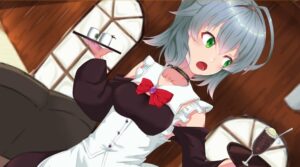 ● To the world~
On 4 February this year, their work was broadcast on NHK WORLD, which broadcasts to around 160 countries around the world.
In line with this, we would like to invite people from all over the world to play this game,  and to feel the possibility of being bedridden.
The game, translated into Japanese and English, is now available on "steam".
and has  already received enquiries and purchases from overseas.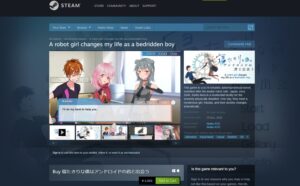 Steam link←
●Steam is a downloadable platform for PC games and software that is available in 25 countries.
Not only companies, but also individuals and small groups can register to sell their original games worldwide.
Born with SMA (Spinal Muscular Atrophy), I challenge the world to put the message that only I can convey into the game I love!
And they never give up and have fun until they overcome all the twists and turns and difficulties and get results.
This is the mindset and will that will surely make the new world that is coming shine….
●Media introduction
Then came C97, the Winter Comic Market, where we distributed the full version of the book, which was bought by twice as many people as in the Summer Comic Market, and was also published in the media.
https://www.4gamer.net/games/491/G049145/20191223119/
Their work has also been featured on TV, with a nationwide broadcast on NHK's morning information programme 'Ohayo Nippon'!
https://www.nhk.or.jp/ohayou/digest/2019/12/1218.html
●On the 4th of February 2020, their work will be broadcast on NHK WORLD, which broadcasts to around 160 countries around the world.
https://www3.nhk.or.jp/nhkworld/en/news/videos/20200204213552537/?fbclid=IwAR184wVajoddXb941q1R0IRUJ7A-1w72FLWUsZU0DEMw-QkhX4eTSg9WSmA
●Twitter
アトリエATIC
@AtelierAtic
零式77型(マサさん)
@reisiki77
●facebook
永廣 柾人(ネギトロ帝王マサ)